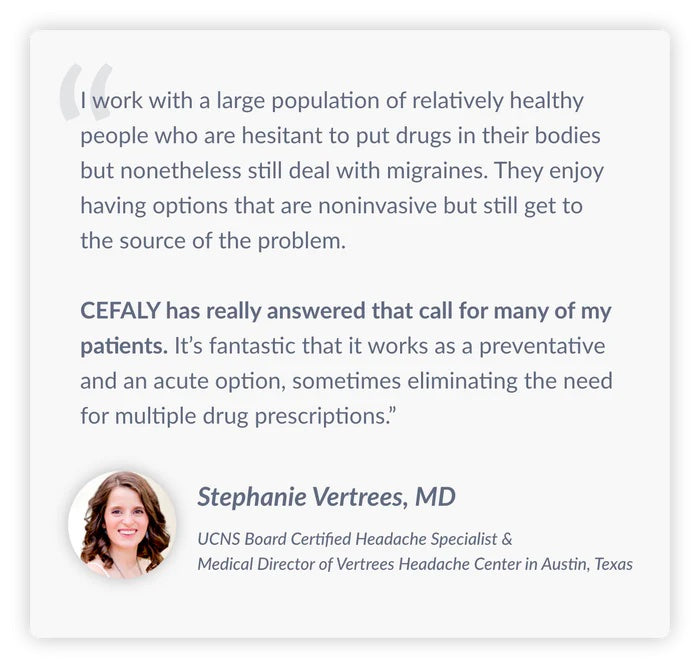 Helping Patients Improve Their Quality of Life
CEFALY allows you and your patients to treat the root cause of migraines, the Trigeminal nerve. Specifically designed to make contact with the nerve endings of this branch via an electrode positioned on the forehead, the CEFALY device is easy-to-use wearable medical technology that treats acute migraine attacks quickly and prevents future migraines from happening.
Stay up-to date about CEFALY, migraine treatment and educational opportunities.
Join Provider Community
Breakthrough Migraine Treatment Used By Customers Worldwide
ONE OF THE BEST

safety/efficacy ratios on the market for acute and preventive relief from migraines.

DRUG-FREE PAIN RELIEF

that helps limit dependency on medication and reduces risk of Medication Overuse Headaches.
Recommended by Healthcare Professionals
Deena E. Kuruvilla, M.D. Director, Westport Headache Institute Medical Advisor, CEFALY Technology

"My patients regularly tell me that CEFALY takes the edge off migraine, enabling them to get back to their daily routine. Now available over the counter, CEFALY is much more accessible for patients without needing a prescription from their clinician."

Stephanie Vertrees, MD, UCNS Board Certified Headache Specialist & Medical Director of Vertrees Headache Center in Austin, TX

"CEFALY has really answered that call for many of my patients. It's fantastic that it works as a preventative and an acute option, sometimes eliminating the need for multiple drug prescriptions."

Alexander Feoktistov, MD, Founder and Director of Synergy Integrative Headache Center

"I have been using CEFALY devices in my clinical practice for a few years now both as migraine prophylaxis as well as one of the acute/rescue options. I am very pleased with the results."

James A Charles, MD, FAAN, FAHS, Clinical Associate Professor of Neurology Rutgers, New Jersey Medical School

"CEFALY efficacy data in our real world practice are not only replicated, but safe. The CEFALY Enhanced is an effective abortive and preventive therapy as monotherapy and as well as combined."
A/Prof Richard Stark, Alfred Hosp. Melbourne, speaks about non-drug strategies in migraine management
Watch this short video to get an overview of non-drug strategies for chronic migraine patients and helpful hints for diagnosis. from a leading Neurologist with a special interest in headache and migraine.
Dr Len Rose speaks about Cefaly for Healthcare Professionals
Watch this video to see how Cefaly can help my patients with a non-drug approach to managing migraine, from an experienced Pain Physician and GP.
Cefaly Healthcare Videos
Non pharmacological options for the treatment & prevention of migraine
Why is Cefaly available & which patients can benefit?
Efficacy and Safety of Cefaly
Cefaly availability & further information
Cefaly summary & resources
We're Here to Help
Our Medical Support Team is standing by to answer your specific questions, send you product brochures, or provide educational material for staff and patients to help increase treatment compliance.
We invite you to request a free CEFALY kit for your office, including a sample device and electrode, to see how the CEFALY device works to treat acute migraine attacks quickly, prevent future episodes, and possibly cut a patient's number of migraine days by almost half.
Contact CEFALY Medical Support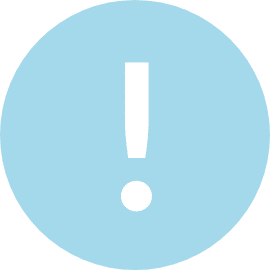 Report an Adverse Event
To report suspected adverse reactions, contact us at...
CEFALY Medical Affairs