CEFALY SALE:

Rediscover your best self with the CEFALY Enhanced, the ultimate migraine-fighting tool with the latest technology designed to help you live life to the fullest.
$449.00
Regular price
$699.00
Sale price
Unit price
per
Sold out
BONUS $55 worth of Electrodes (3-pack)
Ask your NDIS Case Manager how to get CEFALY for free
Description

Tired of migraines holding you back? Rediscover your best self with the Cefaly Enhanced, the ultimate migraine-fighting tool with the latest technology designed to help you live life to the fullest.

Drug-free pain relief
Clinically Proven

One device, two treatment settings: Treatment & Prevention
Private health insurance -

Claim up to 80% 



BONUS: $60 worth of Electrodes (3-pack)

Ask your NDIS Case Manager how to get CEFALY for free
What's in the box?

- CEFALY® Enhanced
- 3 Reuseable Electrodes
- Resealable Electrode Storage Bag
- Instruction Manual
- Charging Dock & USB Cable
- Storage Case
Buy Additional Electrodes

$60.00

Regular price

Sale price

Unit price

per

$65.00

Regular price

Sale price

Unit price

per
Additional Info

CEFALY Enhanced TENS Machine in Australia

Migraines are a debilitating condition that affects millions of people worldwide. While medication can help alleviate the symptoms, it's not always effective and can come with undesirable side effects.

This is where the CEFALY Enhanced Migraine Treatment & Prevention Kit comes in. It's a cutting-edge solution that uses TENS (Transcutaneous Electrical Nerve Stimulation) technology to provide relief without the use of drugs.

How Our TENS Machine in Australia Works

CEFALY Enhanced has been specifically designed for those who suffer from migraines and are searching for a non-invasive, drug-free alternative to traditional medication.

The kit offers a revolutionary approach to managing and preventing migraines, using the latest in TENS technology to provide an effective and comfortable solution.

With its unique features and clinically proven effectiveness, the CEFALY Enhanced Migraine Relief device has become a popular choice for those looking to take control of their migraines and improve their quality of life.

TENS Machine for Migraines: A Revolutionary Approach

TENS machines are commonly used for pain relief, including migraines. They work by sending electrical impulses through the skin, which stimulates the nerves and releases endorphins, the body's natural painkillers.

By using CEFALY Enhanced, you can manage your pain without the use of drugs, avoiding the potential side effects that come with them. CEFALY Enhanced is a leading TENS machine in Australia, specifically designed to treat and prevent migraines. Its unique features include:

3 programs with different intensities and frequencies to suit individual needs.
A self-adhesive electrode that ensures optimal contact with the skin.
A rechargeable battery that provides up to 20 hours of continuous use.

Cefaly TENS Unit in Australia: Accessible and Convenient

CEFALY is available in Australia, and it's conveniently accessible. The device can be purchased online and shipped directly to your doorstep, making it easy to obtain.

Additionally, CEFALY is also eligible for an insurance rebate, making it an affordable solution for those looking for a drug-free migraine treatment. Our website also offers bonus offers, making it a more cost-effective solution.

CEFALY has received positive reviews from satisfied customers worldwide. Many people have experienced significant relief from their migraines and have been able to reduce their reliance on medication. This an excellent option if you're looking for a drug-free, non-invasive solution to manage migraines.

Buy a TENS Machine for Migraines Today

Take control of migraines and improve your quality of life today using CEFALY Enhanced. Buy a TENS machine today and take the first step towards a migraine-free life. For more information, get in touch with our team today.
View full details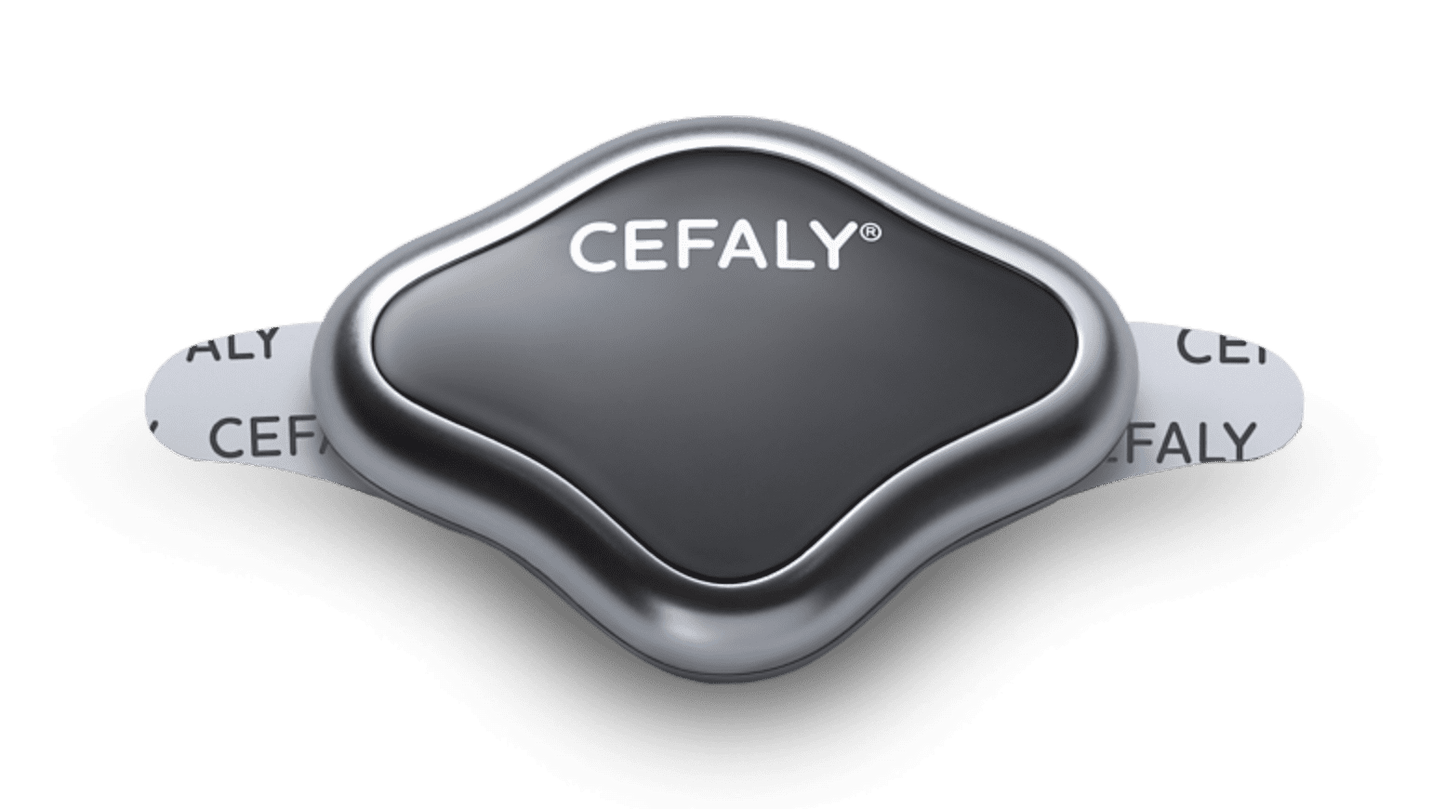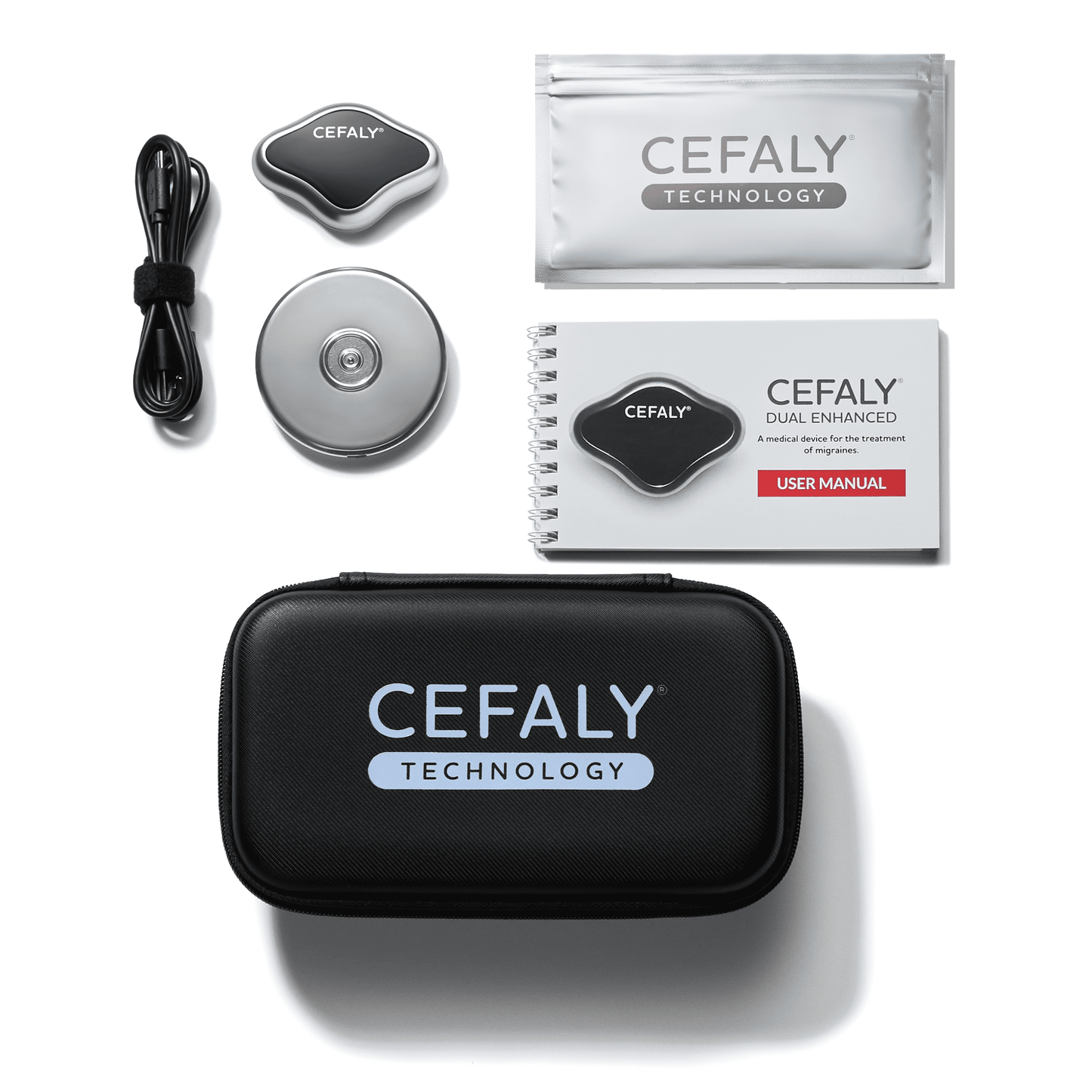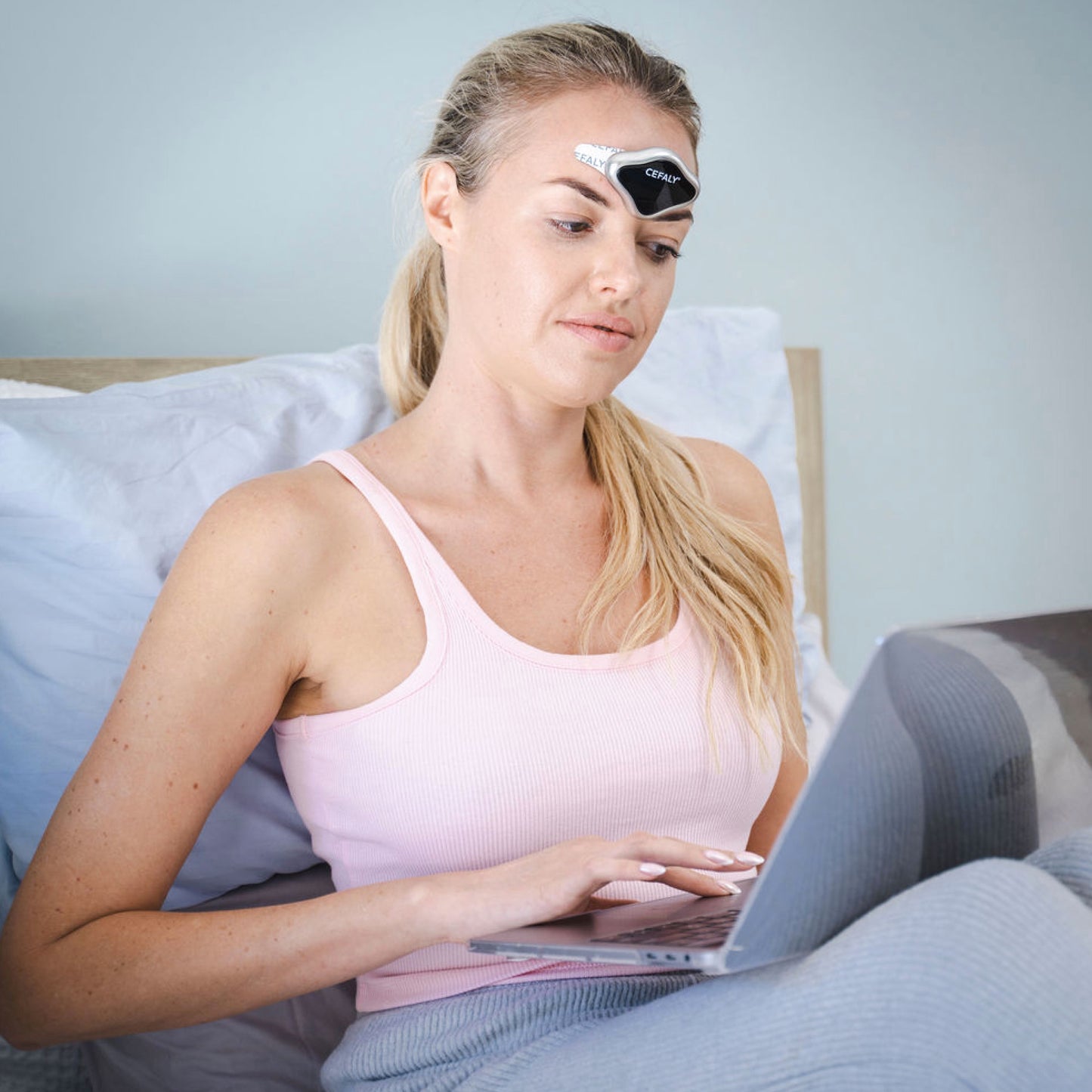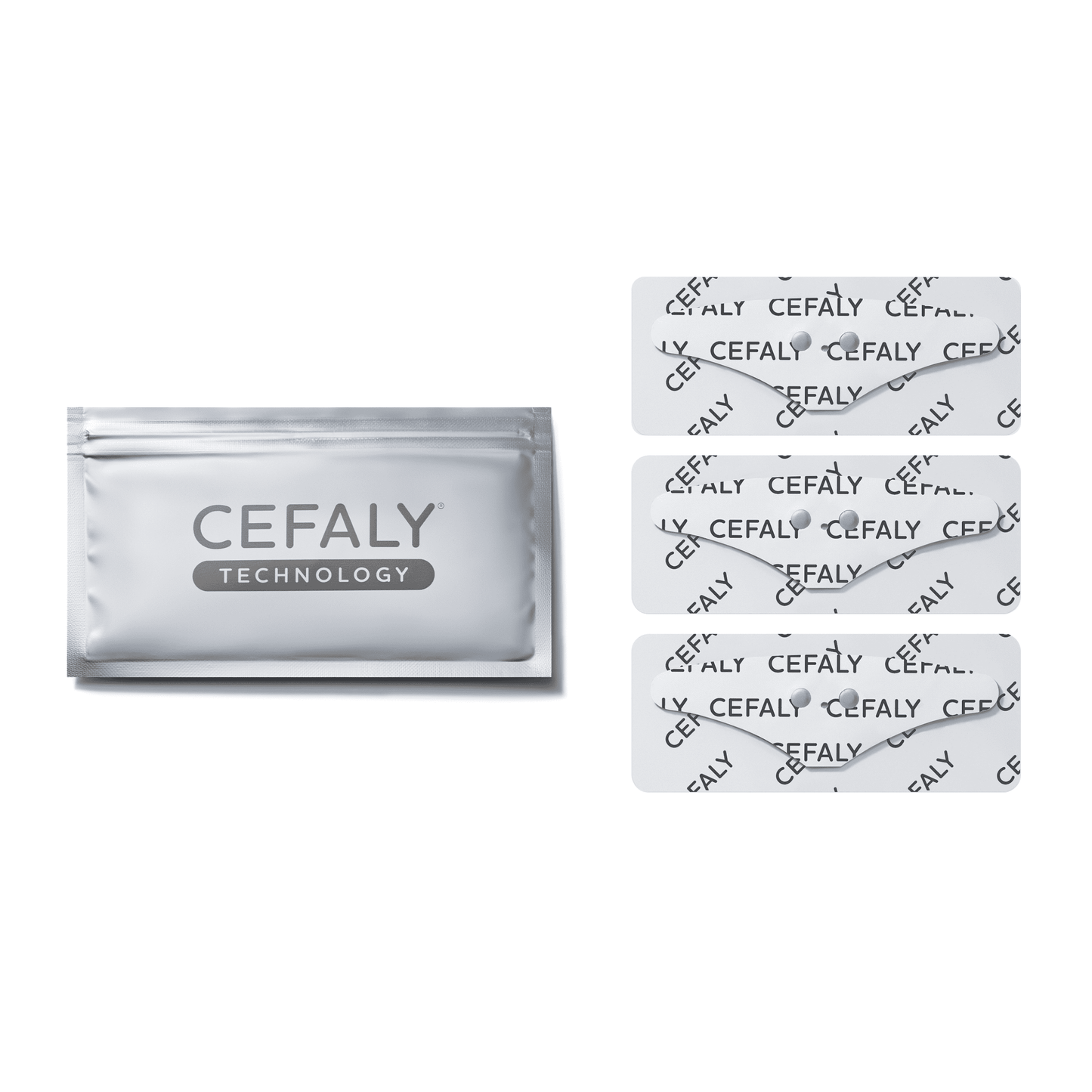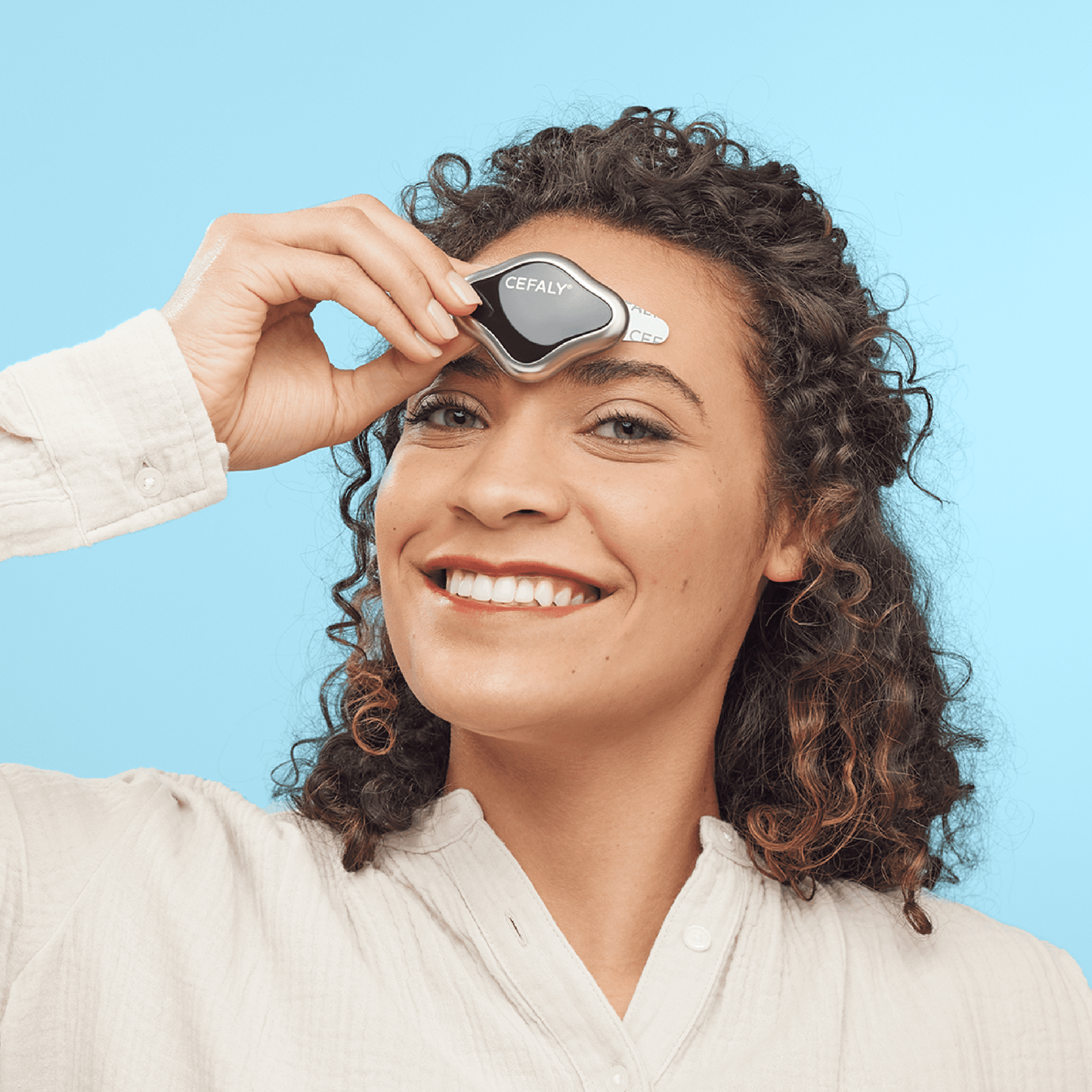 Experience the impact of drug-free migraine relief
With no prescription needed, this simple-to-use medical device works to treat acute migraine attacks quikcly and prevent future episodes. TGA / FDA approved
Next-Level Migraine Relief
CEFALY works by stimulating and desensitising the trigeminal nerve, the primary pathway for migraine pain, for drug-free migraine relief and long-term prevention.
Watch Justine's experience using CEFALY.
Cleanse Your Skin
It's important to cleanse your skin before every CEFALY treatment session. This will help ensure the electrode attached securely to your forehead.
Use soap and water to wash between and above your eyebrows. Afterward, be sure to dry your skin thoroughly.
The use of makeup removing products is NOT recommended as a substitute for soap and water.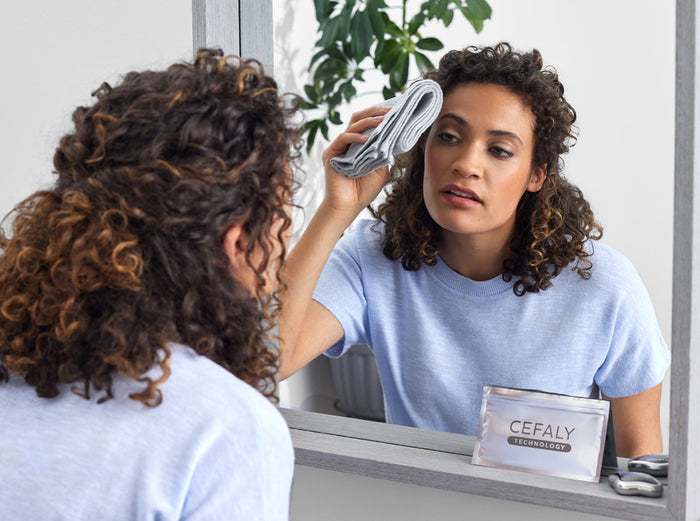 Opening The Electrode
Open the electrode packet and slide out the plastic sleeve, then peel off the electrode.
Position the Electrode
Use a mirror to place the Electrode so the curved area is in between your eyebrows and the wings are just above your eyebrows. Firmly run your fingers over the Electrode a few times until it lays flat against your skin.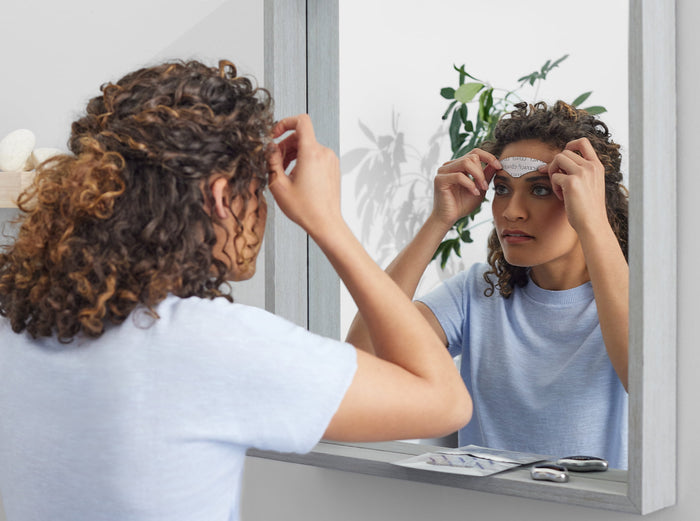 Connect Your Device
On the back of your CEFALY Enhanced, you'll find two small magnetic contacts, designed to securely attach to the Electrode (the contact in the center connects to the charging dock). Hold your device so these magnets are exposed and bring it toward your forehead. You'll feel the device pulling itself toward the Electrode.
Once your device is securely attached to the Electrode on your forehead, you're ready to select either the ACUTE program or the PREVENT program.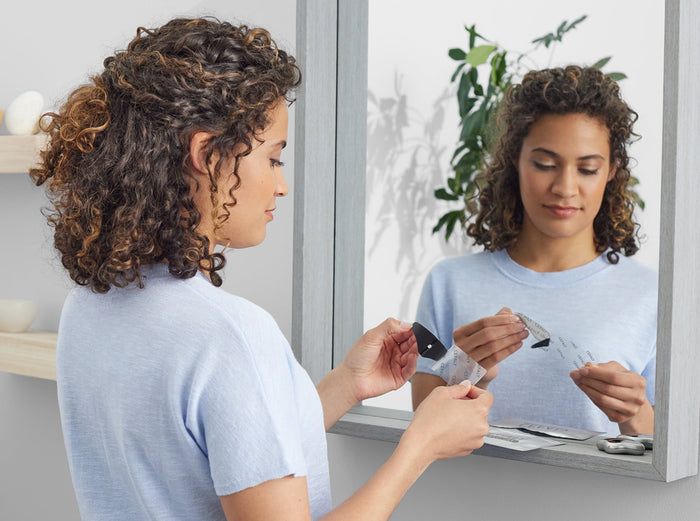 One of the best, recommended by health professionals
A/Prof Richard Stark, Alfred Hosp. Melbourne, speaks about non-drug strategies in migraine management
Watch this short video to get an overview of non-drug strategies for chronic migraine patients and helpful hints for diagnosis from a leading Neurologist with a special interest in headache and migraine.
"CEFALY has really answered that call for many of my patients. It's fantastic that it works as a preventative and an acute option, sometimes eliminating the need for multiple drug prescriptions."
Stephanie Vertrees, MD, UCNS Board Certified Headache Specialist & Medical Director of Vertrees Headache Center in Austin, TX
"I have been using CEFALY devices in my clinical practice for a few years now both as migraine prophylaxis as well as one of the acute/rescue options. I am very pleased with the results."
Alexander Feoktistov, MD, Founder and Director of Synergy Integrative Headache Center
Real People.
Real Results

CEFALY Featured In Australian News
CEFALY has treated more than 2 billion migraine attacks to date. Multiple clinical trials have shown that CEFALY is an effective, safe and drug-free migraine treatment with minimal side effects.
New Hope for Migraine Sufferers on Today Tonight

Cefaly Device on A Current Affair

Cefaly Today Tonight Story

Migraine Device Today Tonight Story

NEW Drug Free Solution for Migraines & Headaches 2017

Have a burning question? The most commonly asked questions answered here.

Get more answers here

Collapsible content

What is CEFALY?

CEFALY is the first FDA / TGA Cleared device of its kind for the treatment of migraine headaches. It is a comfortable, drug-free, approach to help relieve pain and decrease the number of migraine days. In technical terms, it is an external trigeminal nerve stimulator, which is a non-invasive device placed on the head to stimulate and desensitize the Trigeminal nerve.

How does CEFALY work?

Research identifies the Trigeminal nerve as a center for migraine pain and can be accessed under the skin of your forehead. The CEFALY device has been specifically designed to make contact with the nerve endings of this branch via an electrode positioned on the forehead between the eyebrows. Once an electrode has been placed, the device magnetically secures a connection and begins to send tiny electrical impulses through the top branch into the Trigeminal nerve.

How long does a session last?

A session with the ACUTE setting lasts one hour and is used during a migraine attack. The session can be repeated for another 60-minute session if necessary or if another migraine attack occurs. A session with the PREVENT setting lasts 20 minutes. It must be used daily and may be done at any time throughout the day, though an evening session is preferred.

Will it hurt?

The CEFALY device should not hurt and is safe. However, the sensations experienced while using the CEFALY device are novel to most people and can take some adjustment. To make treatment more enjoyable, we recommend you increase intensity in small increments of time, over the course of a few weeks. If you feel the intensity is too strong for you, simply press the button to stabilize the session.

Can I adjust the intensity?

If 10 seconds after you've selected your session, you wish to increase the intensity, you can press and hold the button to quickly ramp up the intensity to your desired strength. When you release the button, the intensity will stabilize and remain constant. Should you press and hold the button again, the intensity will increase again. The maximum intensity is reached after pressing and holding the button for 30 consecutive seconds.

Can I get covered by Veteran Affairs/NDIS Provider?

Yes you can - just inquire with your relevant organisation and they can fully over the cost of Cefaly and its appendages.

Can I claim back some of the cost on my Private health?

Total 5 star reviews: 87

Total 4 star reviews: 21

Total 3 star reviews: 2

Total 2 star reviews: 0

Total 1 star reviews: 0

98%

would recommend this product

Customer-uploaded media carousel. Press left and right arrows to navigate. Press space or enter to open more details.

Slide 1 selected

CEFALY Review

So far so good. Time will tell if its worth the cost as it's pretty expensive, but if it does the job of reducing the frequency and severity of my migraines then I'm OK with that. John P

I use this every day now and love it!

I have suffered from headaches and migraines my whole life and this is a wonderful discovery. I would recommend this to anyone with a similar background. So good to have another relief that isn't medicine!

Wow

It works..really really pleased I purchased. Just wow..

Great product

Loving it so far!!! Finding it to be great for daily use in helping to prevent migraines

A must have in the Migraine treatment toolkit.

Loving my CEFALY. Haven't had it long enough to see the benefits of prevention mode yet, but treatment mode is soooo helpful.

Definitely recommend this for anyone struggling to get a hold of their attacks.

Reviews Loaded

Reviews Added

Indications, Contraindications, Precautions & Warnings

CEFALY® Enhanced is the first FDA / TGA cleared medical device of its kind for treatment of migraine.

CEFALY Enhanced is indicated to be used for:

The acute treatment of migraine with or without aura in patients 18 years of age or older.
The preventative treatment of episodic migraine in patients 18 years of age or older.

CEFALY Enhanced is for patients diagnosed by a physician with migraine per the indications for use.

Do not use if you:

Have implanted metallic or electronic devices in the head.
Are suffering from pain of unknown origin.
Have a cardiac pacemaker or an implanted or wearable defibrillator.

Consult a doctor before use if:

You are under 18 years of age.
You are over 65 years of age.
You are pregnant or may become pregnant.
You suspect or know that you have heart problems.
You had a recent head injury.
You have ever suffered a seizure.
You have never been diagnosed with a migraine by a health professional.
You have a headache that is different from your usual migraines.
You have the worst headache of your life.
You have fever or a stiff neck.
You have a headache that began after a head injury, exertion, coughing, or bending.
You experienced your first headache after the age of 50 years.
You have a migraine so severe as to require bed rest.

Warnings

Do not use CEFALY Enhanced while sleeping.
Do not use CEFALY Enhanced in a wet environment, such as in the bath or shower.
Do not use CEFALY Enhanced while driving, operating machinery, or during any activity that requires you to be alert and focused. Wait for 1 hour after each treatment session before resuming any such activity.
Do not use in the presence of electronic monitoring equipment (e.g., cardiac monitors, electrocardiogram (ECG) alarms).
The CEFALY Enhanced and electrodes are designed for and should be used only in the forehead region.

Do not use CEFALY Enhanced in the neck region.
While CEFALY Enhanced's design prevents this, do not use CEFALY Enhanced close to the thorax (chest region).

Use CEFALY Enhanced only on normal, intact and clean skin.

Do not use over open wounds.
Do not use over skin eruptions.
Do not use over swollen, infected or inflamed areas.
Do not use over, or close to, cancerous lesions or skin abnormalities that could be cancerous.

Use caution or avoid using CEFALY Enhanced if there has been any loss of feeling in the skin of your forehead or scalp until the normal feeling is resumed.
Use CEFALY Enhanced only with the electrodes and accessories recommended by CEFALY Technology.
Keep the CEFALY Enhanced out of the reach of children.
Strangulation risk due to the length of the charging system cable.
Suffocation risk in case of swallowing the electrode.
If you have known allergies to acrylates, contact CEFALY TEchnology for hypoallergenic electrode alternatives.

Consult your healthcare provider before using the CEFALY Enhanced if you have Medication Overuse Headache, Chronic Tension-Type Headache, or Refractory Migraine, as the safety and effectiveness of the device have not been demonstrated for subjects with such conditions.

If the frequency of your headache is not reduced after 2 or 3 months of daily use of Program 2 (prevention), ask your doctor.

The long-term effects of chronic use of CEFALY Enhanced are unknown.

Migraines may indicate that you have a serious medical condition. You should have them checked by a doctor.

You should check with your doctor if you do not understand or if you are not sure whether any of the above Contraindications or Warnings apply to you or your condition.

Choosing a selection results in a full page refresh.
Opens in a new window.